Craig McDermott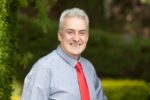 Managing Director - Residential/Commercial/Rural/Land/Developments/Projects
Managing Director - Elders Real Estate Mornington Peninsula
Extensive Real Estate & management experience overall. Craig has worked within both the private and public sector, for over three decades. A strong focus on customer service and liaising with external companies, was an essential part of these positions. Tertiary qualifications in Business Management & Marketing.  Almost 20 years of real estate experience.
Elders Real Estate is widely recognised as the oldest Real Estate agency in Australia and in fact, is one of Australia's oldest companies, having been established in 1839 by Alexander Elder.
It's core success I believe, relates to it's fundamental principles, of values, personable relationships, trust, reliability, underpinned by the best real estate professionals and marketing I.T systems available.
We are the only "full service real estate agency" on the Mornington Peninsula. We can sell everything, residential, rural, commercial, industrial, land, projects, developments and now we even sell businesses! Furthermore we offer a comprehensive property management service catering for both residential & commercial. We are your "one stop real estate shop".
I invite you to experience "the Elders way" and we are sure you will love our point of difference.
0403 063 758
03 5981 4371
0403 063 758
After Hours: 0403 063 758